HashiCorp has recently revealed a shift in its licensing model, transitioning from open source to the Business Source License (BSL) for several projects. They've selected their usual Mozilla Public License, Version 2.0 as the ultimate open terms, with a four-year timeline for the new code release. But remember, there's no need for alarm. Let's unpack what this means for you.
What Does This Mean for You?
As someone who uses HashiCorp products like Vault and Terraform as part of your company's infrastructure, you can keep on using them exactly as you have been. The new terms don't impact regular end users like you who are just leveraging HashiCorp tools internally. You can continue relying on HashiCorp's products to power your infrastructure, as long as you aren't trying to directly compete with them by reselling their tech to other companies. This is a license update targeted at managed service providers and cloud vendors, not everyday users.
We run a Hashicorp professional services shop and sell services
If you're an integration partner, you're in the clear too. The change doesn't affect your work in any significant way. You can continue selling services on top of HashiCorp's products, including Terraform providers, Vault plugins, and other product integrations.
We already pay for commercial use
Commercial customers, there's nothing for you to worry about.
HashiCorp's license change doesn't affect you directly. You'll continue to receive HashiCorp technology under separately negotiated licenses.
Production Use and Competition
HashiCorp has introduced a new license model that specifically addresses the use of its software in production and competition. According to the company, if you are using their software for a non-competitive product and they later release a new version or product that competes with yours, you are allowed to continue using the earlier versions of the software under the existing terms. However, you will not be able to use any future versions for your competing product.
The main purpose of this new license model is to handle potential competitive situations. By stating that future versions of their software cannot be used for competing products. Additionally, this change brings clarity to their terms of use and prevents any ambiguity that might arise in competitive scenarios.
This proactive measure is aimed at preventing future issues, similar to AWS's adoption of Elastic, while still upholding HashiCorp's philosophy of openness and accessibility.
Permissions Table
The permissions under the new license model are clearly defined in the table below: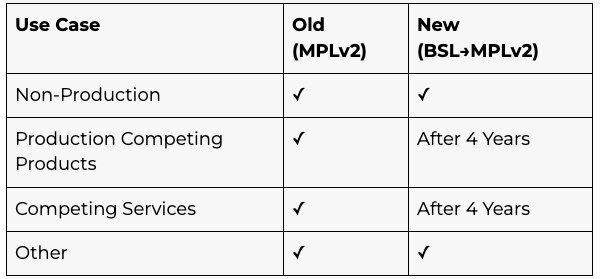 The Details Matter
Indeed, the complexity may seem off-putting, but remember, it's not just about how outside adopters perceive the license change, but also how potential insiders do. As the saying goes, "The devil is in the details". Looking at Globaldots customers, we didn't see a major impact.
Conclusion
So don't be scared off by the headlines and ambulance chasers.
HashiCorp's new license model might seem complex at first glance, but it probably won't affect you.
The new license model is an evolutionary step, not a revolutionary one. Keep calm and code on.