Domain Name System (DNS) is critical to the performance and reliability of your internet applications and cloud services. A cloud-based DNS can deliver even better results than regular DNS infrastructure.
DNS is mission-critical to all organizations that rely on the Internet for conducting business. DNS failure or poor performance leads to applications, data and content becoming unavailable, causing user frustration, lost sales and business reputation damage.
As enterprises continue to outsource their IT infrastructure, they should consider adopting a cloud-based DNS to ensure an edge against business rivals.
In this article, we'll examine what a DNS is, and what advantages a cloud-based DNS can give a modern company.

What is DNS?
The Domain Name System (DNS) is a hierarchical distributed naming system for computers, services, or any resource connected to the Internet or a private network. It associates various information with domain names assigned to each of the participating entities. Most prominently, it translates domain names, which can be easily memorized by humans, to the numerical IP addresses needed for the purpose of computer services and devices worldwide. The Domain Name System is an essential component of the functionality of most Internet services because it is the Internet's primary directory service.
The Internet maintains two principal namespaces, the domain name hierarchy and the Internet Protocol (IP) address spaces.
The Domain Name System maintains the domain name hierarchy and provides translation services between it and the address spaces. Internet name servers and a communication protocol implement the Domain Name System. A DNS name server is a server that stores the DNS records for a domain name; a DNS name server responds with answers to queries against its database.
Since the DNS system is in fact its own network, it uses a server known as the DNS Server, or nameserver. Each domain (that is, every website on the internet) must be registered and pointed to its domain name server. The DNS network then serves the sole purpose of translating services between the domain name hierarchy and the IP addresses spaces. With many IP addresses in use, and with websites changing their IP addresses all of the time, DNS servers are processing billions of requests on the Internet at any given time.
Why DNS matters?
Every user's frst interaction with your website begins with a series of DNS queries. Poor DNS performance can lead to slow page loads, dissatisfied customers, and lost business. Cloud-based DNS services extend DNS performance, resiliency, and scalability helping you ensure superior user experiences across the globe.
Your online applications and digital content may be scattered across the internet. Some assets might reside in your corporate data center, some might be distributed across a CDN and some might reside in the cloud. DNS is responsible for steering users to the correct source.
DNS performance and availability are central to the user experience. A contemporary webpage can involve dozens of DNS lookups. For complex webpages, DNS resolution can comprise as much as 29% of initial page load time.
If DNS query responses are slow because of internet congestion or latency the user experience will be impaired (and users may abandon your site). Worse still, if your DNS infrastructure is unreachable because of equipment problems, network outages or a DDoS attack, users may not be able to access the data and content on your site—regardless of where it resides.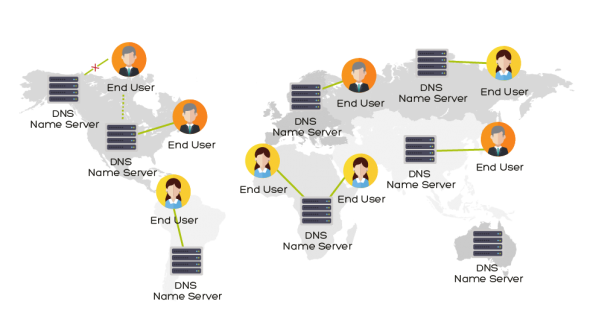 Cloud-Based DNS Advantages
You can improve results, contain costs, and make better use of valuable IT personnel by leveraging a cloud-based DNS service. The top managed DNS service providers have the global DNS infrastructure and deep DNS expertise to ensure your success.
Dedicated DNS design and management resources
Designing, operating and protecting a global DNS network is resource-intensive, expensive, and time-consuming to implement in-house. ISPs may lack the knowledge and expertise to deliver enterprise-grade DNS performance. You can achieve the results you want by turning over the operation of your DNS to experts and freeing up your internal staff to work on more strategic projects.
Global Performance and Scalability
DNS service providers operate large-scale anycast networks with multiple points of presence (PoP) around the globe. They accelerate DNS resolution by automatically steering queries to the closest PoP, ensuring consistent user experiences around the world. On-demand bandwidth accommodates surges in traffic during periods of peak load.
High Availability
DNS service providers run highly resilient networks with no single point of failure. They operate out of geographically distributed, high availability data centers on separate power grids, food plains, and fault lines. They can also deploy fully redundant servers and install connections to multiple ISPs to ensure uninterrupted service in the event of equipment failures or network outages.
Strong Security
DNS service providers take a multilayered approach to security, employing a variety of measures to establish trust and defend against threats. They retain dedicated security experts who closely monitor industry trends and proactively update security systems and practices to thwart malicious attacks and mitigate risks.
Few in-house or ISP-based DNS providers are able to deliver that level of security.Multiple, geographically distributed DNS name servers eliminate single points of failure and ensure continuous service in the event of individual server problems or network outages. Anycast also provides fundamental security advantages over unicast—mitigating security threats by concealing the addresses of individual servers and automatically distributing attacks across a collection of compute resources.
Easy-to-use APIs
Most DNS service providers offer development tools and APIs to help you streamline integration with external applications and automate routine DNS configuration tasks.
Expertise and Support
DNS service providers employ full-time DNS and network security experts, and offer 24/7 technical support to help keep your website running smoothly around the clock.
Conclusion
Creating a highly scalable, reliable, and efficient DNS infrastructure takes time, money, and expertise. You can accelerate your success and contain costs with a cloud-based service. Cloud-based DNS also exposes myriad opportunities to leverage the DNS infrastructure for global load balancing and traffc steering across hybrid environments.
If you have any questions about how to effectively adopt the cloud-based DNS for your business, or how to optimize your cloud performance and reduce costs, contact us today to help you out with your performance and security needs.