5 Min read
It's 2019, and the business landscape has changed. Many companies have migrated to the cloud, their employees are working remotely, and they're competing in a global marketplace.
They no longer rely on on-premises infrastructure, and they want to be able to scale their business and meet customer demand.
Cloud has secured its place in today's business, with 95% IT professionals citing it as one of the top five most important IT strategies today, according to the SolarWinds IT Trends Report 2018: The Intersection of Hype and Performance.
Cloud computing is based on the premise that the main computing takes place on a machine, often remote, that is not the one currently being used. Data collected during this process is stored and processed by remote servers (also called cloud servers). This means the device accessing the cloud doesn't need to work as hard.
By hosting software, platforms, and databases remotely, the cloud servers free up the memory and computing power of individual computers. Users can securely access cloud services using credentials received from the cloud computing provider.
Cloud offers many benefits, including scalability, data security, efficiency, control and so on.
As we continue to develop new solutions to tackle specific customer business needs, and through constant analyzing of cloud computing landscape, we have noticed that our customers always come to us with similar questions related to cloud usage.
In this article, we'll take a look at what most common cloud challenges are, and how we help our customers overcome them.
Migrating to the cloud
Outsourcing IT
Controlling cloud spend
Optimizing cloud performance
Cloud security
Migrating to the cloud
Cloud migration is the process of moving data, applications and other business elements from an organization's on-premises computers to the cloud – a virtual pool of on-demand, shared resources that offer compute, storage, and network services at scale.
Determining application readiness, identifying the ideal platform(s) on which to run them and keeping an eye on the ever-changing landscape of cloud services and features each require careful consideration.
GlobalDots helps its customers by performing vendor analysis and providing support during the migration process.
Outsourcing IT
Managing IT tools and services in-house can seem like an easy way to save money, but as businesses grow and technologies evolve, continuing to manage, re-design and integrate complex infrastructure can lead to expensive problems for businesses. The staffing and training requirements to maintain a comprehensive IT team while still keeping focus on innovation can become costly.
Organizations need to focus on improving and cultivating fundamental skillsets that will carry them into the cloud. This suggests that the skillset needed across IT is becoming increasingly blended, requiring versatile tech professionals that can adapt and flex in accordance with a changing landscape.
Partnering with a next gen provider like GlobalDots offers access to certified experts who've managed every aspect of customer IT solutions, from application support to the orchestration of automated processes and implementation of continuous security.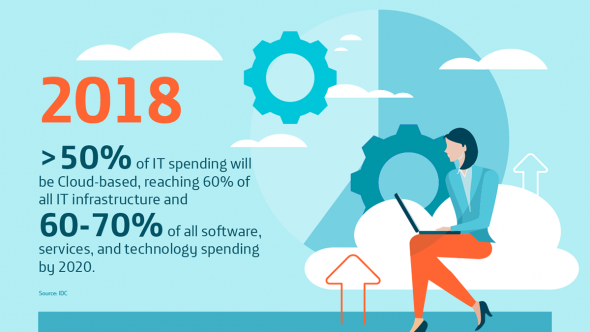 Controlling cloud spend
Customers across industries are looking for cost-reduction opportunities to help keep their IT spend from undermining profits or cutting into core business expenditures. Balancing the need to reduce IT costs without cutting skilled resources or impacting customer service is difficult.
Cloud infrastructure offers many benefits for organizations, but it also presents some challenges. It's easy to see the benefits (scalability, control, security etc.), but it's also important to understand how moving to the cloud impacts your organization.
A major problem that contributes to cloud cost management challenges is the difficulty organizations have tracking and forecasting usage. The survey conducted for the SoftwareONE Managing and Understanding On-Premises and Cloud Spend report found that unpredictable budget costs was one of the biggest cloud management pain points for 37% of respondents, while 30% had difficulty with lack of transparency and visibility.
With GlobalDots' Cloud Management Platform, you can simplify cloud migration and management by improving processes and optimizing resources.
We let you analyze and manage cloud cost, usage, security and performance in one place through our platform. The platform provides a centralized hub with consolidated data, robust analytics, integrated reporting, optimization recommendations, and governance.
Optimizing cloud performance
Once they migrate to the cloud and start controlling their cloud spending, companies usually look for ways to optimize their cloud performance.
Regardless of the type of business you're in you'll most likely want to set up a content delivery network (CDN), or use a multi-CDN setup, work on improving the speed of your website or mobile app, use a DNS and so on.
All these technologies require specific skill sets and knowledge which companies sometimes don't have. That's why they turn to GlobalDots – we help organizations to optimize their cloud infrastructure to achieve their business goals.
On the Internet, every millisecond counts. And we know the exact architecture and infrastructure to help you connect with your customers and deliver your content faster and more reliable.
Cloud security
The final challenge on the list is the security of cloud environments. Cloud security is one of the biggest issues most organizations are worried about.
Cloud computing security or, more simply, cloud security refers to a broad set of policies, technologies, and controls deployed to protect data, applications, and the associated infrastructure of cloud computing.
The cloud provides users with capabilities to store and process their data in third-party data centers. Organizations use the cloud in a variety of different service models (with acronyms such as SaaS, PaaS, and IaaS) and deployment models (private, public, hybrid, and community).
Some companies are concerned with the fact that if their data is stored on someone else's servers (cloud provider), and that data is accessible from anywhere, how can they be sure that their data is safe from unwanted use by cyber criminals.
Concerns around cloud security (and cyber security in general) are not unwarranted – data breaches can ruin business's reputation and lead to revenue loss.
Navigating the ever-changing landscape of security threats and solutions can be a daunting task for any IT department and at GlobalDots we recognize that the threats can come from any direction.
We offer several cloud security solutions, all based on latest cybersecurity tech. From DDoS mitigation & protection, to making sure bad bots are not causing mayhem on your website or webshop, we protect your digital assets with 24/7 vigilance.
Conclusion
Cloud has secured its place in today's business. it offers many benefits, including scalability, data security, efficiency, control and so on.
But companies often have to tackle some common cloud challenges, like setting up the migration process the right way, optimizing cloud performance and spend, making sure the cloud environment is secure etc.
If you want to learn more about the state of cloud computing market, please take a look at our State of Cloud Computing 2019 report.
If you have any questions, contact us today to help you out with your performance and security needs.