4 Min read
Verizon Will Offer Bot Protection Through Distil Networks
Last week Verizon Digital Media Services and Distil Networks announced a partnership aimed at delivering bot protection services across Verizon's Edgecast CDN. Verizon is expanding their current security portfolio which offers DDoS mitigation, DNS protection, Web Application Firewall, TLS encryption and managed security services. Distil Networks uses advanced fingerprinting techniques to distinguish malicious bots from legitimate users with a high rate of accuracy.
Ralf Jacob, president for Verizon Digital Media Services, stated "With Distil's accurate and proactive approach to protecting against sophisticated malicious bots, we are pleased to expand our security offerings to thwart web bot attacks."
In partnering with Distil on bot mitigation, Verizon's enterprise CDN security will gain protection against automated threats including web scraping, application DoS, account hijacking, transaction and digital ad fraud. The service will be immediately made available to all current Verizon Digital Media Services customers.
Bizety also predicts that the newly founded partnership is just a step toward Verizon's future acquisition of Distil Networks. A deal they estimated will total over $400M.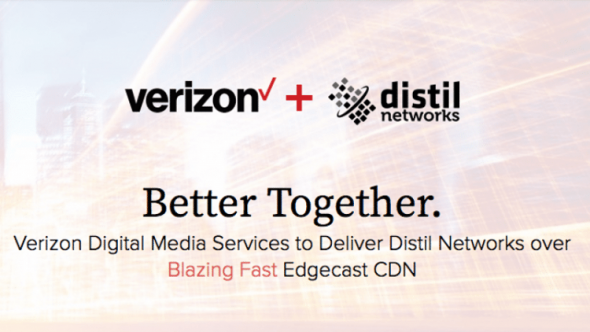 Read More: Bizety
Cisco Acquires AppDynamics in $3.7bn Deal
As Cisco attempts to grow beyond their traditional core business to keep pace with industry trends, the acquisition of AppDynamics represents the next step in their efforts. AppDynamics has around 2 000 paying subscribers and notable clients as NASDAQ, Nike, Kraft and even Cisco itself. The deal is supposedly worth $3.7 bn, which almost doubles the US based software firm November 2015 valuation of $1.9 bn.
With this move, set to close in April 2017, Cisco enforces their efforts to stay ahead of emerging technologies, especially cloud tech and IoT. Upon acquisition, AppDynamics will join Jasper, a cloud-based software company bought last year for $1.4 bn, and will continue to operate under current CEO David Wadhwani.
In a recent interview, Rob Salvagno, Cisco's head of acquisitions, stated that the company was looking to bring in AppDynamics talent and not only their technology but didn't confirm if all 1 200 employees would be kept at Cisco.
Read more: CloudPro
Ripper.cc to Offer Protection for Cybercriminals
Even cybercriminals need protection. Ripper.cc is a new service intended to help Dark Web users to aviod being scammed. The service was established in June 2016, and its release was announced on a hacking forum. The service holds information on over 1 200 scammers and it operates by cross-referencing its database of scammers across forums. Aptly named "blacklist" – it contains contact informations and fraud scheme details. It also provides Chrome and Firefox extensions, a plugin for Psi Plus and profile creation.
According to a report published by security firm Digital Shadows, criminals in the cyber underground became used to paying a "ripper tax". Fraud is widely spread in the cybercrime environment and services like Ripper.cc threat to stop the trend. Along Ripper, Dark Web criminals use Kidala.info to track and identify "rippers" – a term used for scammers on Dark Web forums and marketplaces. The creators announced to release Ripper.cc services as open-source to prove there's no malicious code in any of their features. They also plan to enable ads as well as introduce an escrow service.
The emergence of this kind of services is yet another example of the ongoing industrialization of hacking and the increasing levels of professionalism in modern cybercrime.
Read more: Hacking Threat, Digital Shadows Blog
Microsoft's Revenue Exceeds Predictions
With revenue for the quarter reaching $26.1 bn, Microsoft topped analyst predictions of $25.3 bn. The tech giant continues to close the gap with AWS, so the results come as no surprise considering high demand for Microsoft's "intelligent" cloud services. The company's revenue spiked mostly because of Windows Server, Visual Studio, System Centre, Azure, and other enterprise solutions. Also, their commercial cloud efforts, spearheaded by Office 365, amounted well over $14 bn.
"Accelerating advancements in AI across our platforms and services will provide further opportunity to drive growth in the Microsoft Cloud." said Microsoft's CEO Satya Nadella.
The recent revenue report is the first since the $26 bn LinkedIn acquisition in December. The service achieved $228 mil in revenue although generated a $100 mil net loss for the quarter. As for their PC unit and other legacy businesses, they continued a negative 5% YoY trend with PC and Mobile divisions raking in $11.8 bn. Also, Microsoft's gaming division underperformed with a 3% decline as Xbox loses momentum since the 2013 release.
Nadella also announced plans for a stronger push into AI predicting further growth for its Office 365 platforms.
Read more: CloudPro
Oracle to Let Go 450 "Hardware" Employee
In order to re-focus their efforts in the cloud, Oracle will axe 450 positions in its Santa Clara and Burlington hardware divisions. These decisions could be due to last quarterly figures which showed a 20% decline in software and 13% in hardware revenues. On the other hand, SaaS and PaaS revenue soared, reaching 68% YoY growth propelling Oracle as one of the fastest growing cloud companies in the last quarter.
Anonymous reports speculate that 1 800 positions are on the line with hardware and software developers on the radar, as well as managers, technicians and other staff. Co-CEO Safra Katz, said they were evaluating their hardware division expenses, discretely suggesting that the company could cut back in order to reduce losses.
Read more: CloudPro