4 Min read
Akamai's Tom Leighton on the four "grand challenges" facing the Internet
Leighton co-founded cloud-services, mobile and security company Akamai Technologies (Nasdaq: AKAM) in 1998 and was the company's chief scientist for 14 years before becoming CEO.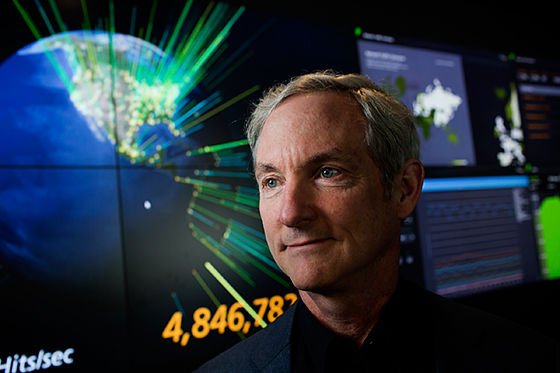 Tom Leighton, CEO, Akamai. Image source
Leighton pointed out four major challenges:
Doing video at high-quality and at scale
We're a long way from high-quality video-over-the-Internet, but we're getting more used to higher-quality TV (HD, 4K and 8K TV). A dramatic increase of in the number of bits per second is needed to stream movies and show over the internet in the way we've come to expect on TV.
Instant Web performance for any device, anywhere
Mobile Internet access is slow because the mobile network architecture was not designed for the Web. Cellular infrastructure was only designed for voice communication.
Internet security
Akamai's major role is Internet security, fending off cyber attacks aimed at client's websites. The number of attacks on client websites has increased to a "monstrous" number.
Fast, affordable IP access in workplaces and brach offices
As much as the fact that Internet is available everywhere, the quality of the connection and acces to content over the Web isn't as high as enterprises would like it to be.
Akamai has about 150,000 servers deployed inside 1,200 networks in more than 650 cities. The company's fiscal year 2013 revenue was $1.6 billion and the company is delivering up to 30 percent of all the Web traffic in the world.
Full story at BizJournals.
MaxCDN Adds Point-of-Presence at Tokyo, Japan
MaxCDN, the Content Delivery Network solutions provider announced that the Company has now added a Point-of-Presence in Tokyo to provide much faster and better connectivity.
Tokyo PoP is also added to the Company's "More Locations" add-on service, which comes at a monthly charge of $15 (or $150 for 12 month period). The company has 3 locations; Tokyo (Japan), Sydney (Australia) and Jurong (Singapore) and plans to add 3 more to this add-on, improving and enhancing the Company's network global footprint.
MaxCDN mentioned that the Company was happy with the expansion plan and stated that enterprise customers who want to start using these new PoP locations should get in touch with their account managers.
Read more at CDN Advisor.
Aryaka Raises 10 Million USD in Series D Funding Round
Aryaka, the provider of WAN Optimisation-as-a-Delivery, Network-as-a-Delivery, Cloud Networks and Application Delivery-as-a-Delivery announced the raising of additional $10 million from existing investors as part of a Series D funding round, which saw contributions from Trinity Ventures, InterWest Partners, Nexus Venture Partners, Mohr Davidow Ventures and Presidio Ventures.
The funds will be used by Aryaka for expanding it's team and network reach, getting more customers and improving it's offerings. The company already has 3000+ customers across 48 countries and additional funds will accelerate the Company's growth.
Aryaka stated that the Company was excited because it was working with a great group of investors and stated that it was also happy to raise $10 million as part of its latest Series D funding.
Full story at CDN Advisor.
Google accelerates storage in its growing public cloud
Google has just amped up the storage component of its burgeoning public cloud by offering to store companies' data on fast solid-state drives (SSDs), instead of more conventional (and cheaper) hard disks. The rent will cost 32.5 cents per GB per month. The move exemplifies Google's pattern of innovation in the public could market. Market leader Amazon Web Services has not brought solid state drives to its block storage.
Gartner forecast that the public cloud services market would grow 18.5 percent year-over-year from 2012 to 2013, coming out at $131 billion. Infrastructure as a service — which Google and Amazon provide — would account for $9 billion, according to Gartner's forecast. Google also announced today new load-balancing features — for use across multiple Google data centers — that can ensure an application won't buckle under a ton of web requests.
For more details go to VentureBeat.
Dyn Research: CDN Adoption By The Numbers
As of June 2014, more than 50% of the Alexa 1000 websites use a CDN. Among Dyn customers ranked in the Alexa 1000, this adoption rates are even higher — coming in close to 80%. CDN technology is now a basic underlying infrastructure component for high-performance websites. More than two-thirds (35%) of Alexa 10 000-ranked websites are using a CDN. This is up from approximately 30% in this category.
This indicates that more websites in general — not just the web giant domains — are looking to CDNs to improve user experience on their websites.
At a regional level, a large majority of websites ranked in the Alexa 1000 and 10,000 with a CDN deployed are based in North America: 63% and 64% in each market group, respectively.
In the Alexa 1000, APAC is second with 19%, and EMEA is third at 16%, indicating that more and more web companies in countries such as China, South Korea and India, as well as Japan and Australia, are using CDNs to power their large websites.
This suggests the superiority of CDN, which provides faster availability and accessibility to the customers website, as well as faster delivery of objects.
Full report at Dyn Blog.