5 Min read
With the proliferation of cloud deployments among enterprises in last few years, the need for cloud management has increased dramatically. Organizations need ways to keep their cloud environments under control. This is especially true in multi-cloud deployment models.
In order to keep financial, operational, and performance targets on track, organizations need to have a deep understanding of how elements of your IT infrastructure work together and implement cloud policies that drive targets forward without compromising security. This only adds to the complexities of governing the environment and addressing policy violations when they occur.
The solution to the growing complexity of cloud policy governance is automation. In much the same way as automation and orchestration can better control deployments, accelerate responses, and streamline processes, automated cloud policy governance can better control the environment, accelerate responses to policy violations, and streamline the processes for how policy violations are addressed.
In this article we'll take a look at automated cloud management and how it can help you reduce your cloud costs and increase ROI without compromising security.
Automated Cloud Management: How it works
Cloud management is essentially the activity of defining, continuously monitoring, and auditing the rules, guidelines, policies, and processes that allocate, coordinate and control a given operation's resources and actions. In short, establishing and auditing the application of existing ruling.
Cloud application governance means the placement of policies around the use of cloud resources, such as storage and compute, as well as cloud services (APIs).
According to a Gigaom survey from 2014, 63 percent of the roughly 1,000 IT leaders who responded said that leveraging cloud governance systems will likely be accepted in their organization. Only 7 percent think cloud governance systems will be ignored.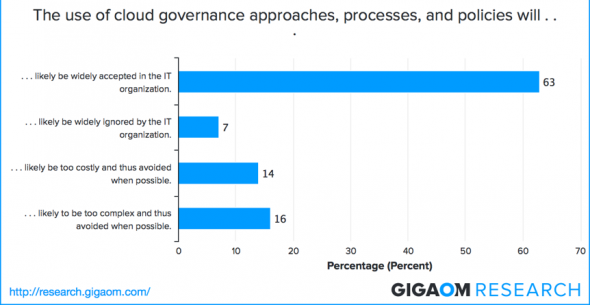 The concept is quite simple. You upload your cloud policies to a cloud management platform with automation capabilities. The platform monitors activity in the cloud and, if a policy is violated or an action requires approval before it is allowed, the platform addresses the violation/approval request in one of the following ways:
Notifies you (or other designated person) of the violation by email.
Suspends an action until the approval workflow process is completed.
Executes a function to terminate a non-conforming activity.
Executes a function to revoke access to misconfigured or suspicious accounts.
Examples of how automated cloud policy governance works include applying a policy to advise you when costs are projected to exceed a monthly budget, to suspend the launch of a Virtual Machine if its CPU capacity exceeds a certain level, to terminate a Virtual Machine with unauthorized open ports, and to revoke access to an account logged into from a non-conforming IP address.
The automation of cloud policy governance means you only have to govern by exception—i.e. when non-conforming activities need to be addressed, or when policies need to be amended to account for an expansion of your cloud presence. In the same way as automation and orchestration frees IT personnel to focus on more profitable activities, automated cloud policy governance can create more time for business-critical decision making.
Challenges with managing cloud infrastructure
Having a complex cloud infrastructures offers many benefits, but also challenges. Let's first take alook at what challenges organizations face when using cloud.
Controlling the costs – One great value of cloud computing is that costs are more stable and more predictable. But the overall cloud cost management is giving a tough time to enterprises today. Due to lack of understanding of the enterprise cloud spending and IT usage, most companies eventually end up seeing a spike in their cloud bills.
Security –

With increasing incidents of data breaches/hacks/security compromises, you cannot afford to be casual and cool about security and compliance of your infrastucture at all.

Performance – optimizing cloud performance can be difficult since there's a lot of data which gets obsolete fast.
Automated cloud management benefits
Generally speaking, those who move to the cloud can live without a cloud governance strategy and technologies for the first few deployments, because they can manually perform most management and governance operations. However, with the second or third cloud deployment, teams typically hit a tipping point in the number of cloud services and resources under management. Enterprises can no longer manage the increasing number of cloud services at that point, and the numbers of cloud types and brands typically increase as well.
The trick is to prepare for the complexity. Before your cloud deployment becomes more complex and cumbersome, it's wise to get a sound governance program under way. Moreover, it's wise to include developers early on, since they will be ultimately responsible for cloud governance, not to mention security and some parts of operations.
The list of potential benefits varies according to the industry your business operates in, but generally includes optimized security management, optimized financial management, optimized operational management, and optimized performance management—driving targets forward without compromising security or adding to the complexity of governing the environment.
Automation – working established processes and workflows can be automated, significantly raising efficiency.
Innovation – the evolution of cloud offering is driven by the provider which in-turn creates effective opportunities to evolve one's IT infrastructure at a low cost.
Optimization – having a huge integration capacity that can leverage the existing potential of alternative, more capable infrastructure that can be installed/integrated within a matter of minutes, hours or a few days.
Change – proper processes in place over a highly dynamic and responsive IT landscape facilitates change management, quality assurance, and compliance.
CAPEX/OPEX – utilize the most appropriate IT assets for a fraction of the "traditional way" cost.
Profitability – Organizations with above-average IT governance have been shown to have more than 20 percent higher profits than those with poor governance following the same strategy.
Conclusion
Managing cloud infrastructures can be substantially more complex than traditional data infrastructures; however, cloud infrastructures have the potential to become highly optimized, intelligent systems that improve enterprises. If you have any questions about how we can help you optimize your cloud performance and automate your cloud management, contact us today to help you out with your performance and security needs.