4 Min read
Fast time-to-value and the flexibility provided by cloud solutions lured big IT players, and a growing number of smaller organisations as well, into embracing the almighty cloud. Beside reducing capital expenditures, it also frees up valuable time for IT teams as they don't have to dwell on hardware deployment and maintenance as they did before.
Tweet this: The cloud is here to stay, but has yet to achieve its full potential

The cloud is here to stay, but has yet to achieve its full potential. Whether its public, private or hybrid, hosts apps or is simply used as backup storage, cloud solutions have not only revolutionised the way organisations operate but also enabled businesses to reinvent their operational infrastructures. This trends open space for new players to emerge and tackle the usual paradigms to eventually grab their piece of the market cake. The highly competitive and innovation-driven cloud landscape is set for years of growth. Only time will tell how long will the growth last and eventually start to fade. Until then, there will be plenty of opportunities to catch. To do so and get the best value out of it, one has to understand overall market trends. In order to provide you with useful insights and predictions, we decided to bring you a quick report on the state of the cloud in 2017.
What You Need To Know About The Cloud In 2017
Earlier this year, RightScale ran its annual State of the Cloud Survey, mainly focusing on IaaS. The survey interviewed 1002 IT professionals and is one of the largest survey regarding cloud infrastructure and one of the few that focuses on cloud customers. The final report offers an extensive set of market insights and specifics which helps setting a fresh perspective about the actual state of the cloud and the opportunities that are set to arise.
Next we bring you 10 key takeaways from the report. (You can also download the complete survey here).
1. Enterprises still prefer Hybrid Cloud strategies, while Private Cloud adoption declines
Multi-cloud strategy has been adopted by 85% of enterprises (+3% from 2016).

Private cloud adoption declined by -5% (from 77% to 72%) impacting overall hybrid cloud adoption which fell by -4% (from 71% to 67% YoY).
2. Users tend to use Multiple Clouds to run their applications
Cloud users run their apps in an average of 1.8 public clouds and 2.3 private clouds.
3. The majority of companies' workloads is executed in the Cloud
Workload is executed in public clouds by 41% of respondents while 38% use a private cloud.

For enterprise respondents, the survey showed that 32% of them runs workloads in public, while 43% use private cloud.
4. IT teams gained more control of their Cloud role
Enterprise central IT have wider responsibilities within their cloud roles in 2017. Mainly:
Selecting public clouds (65%).

Deciding/advising on which apps move to cloud (63%).

Selecting private clouds (63%).
5. Overall Cloud challenges are declining
The lack of resources and/or expertise is no longer the main challenge in cloud adoption as it was in 2016:
Only 25% of respondents cited expertise deficit as a major concern (-7% from 2016).

Cloud security is a main concerns to 25% of surveyed professionals (-4% from 2016).

Among mature cloud users, managing costs is the main challenge for 24% of them.
6. Wasted Cloud spend forces users to focus more on managing costs
Cloud costs optimisation is the top initiative for cloud users (53%), particularly among mature cloud users (64%).

Respondents estimate a 30% waste of spend (RightScale reports actual waste is between 30 and 45%)
7. Docker takes the lead in terms of DevOps tools
The adoption of the

Docker

platform rose to 35%, overtaking Chef and Puppet, each at 28%.

Kubernetes adoption grew strongly to reach 14% (+7% since 2016).
8. Microsoft's Azure strengthened market position, closing the gap with AWS
Overall Azure adoption grew to 34% of respondents (+14% since 2016).

AWS remained flat at 57%.

Google strengthened third position with 15% (+5% since 2016).
9. AWS is still dominating the Public Cloud sector
AWS holds a significant lead in the number of virtual machines (VM) its users are running:
Over 28% of respondents have more than 100 AWS VMs.

Only 13% have more than 100 Azure VMs.

Among enterprises, 38% have 100+ VMs in AWS, while 21% have 100+ Azure VMs.
10. Private Cloud adoption slowed down
The only private cloud to achieve a significant growth is Azure Pack/Stack which went up by +5% (from 9% to 14%).

The leader in private cloud adoption is still VMware vSphere which reached 42%, slightly down from last year (-2%).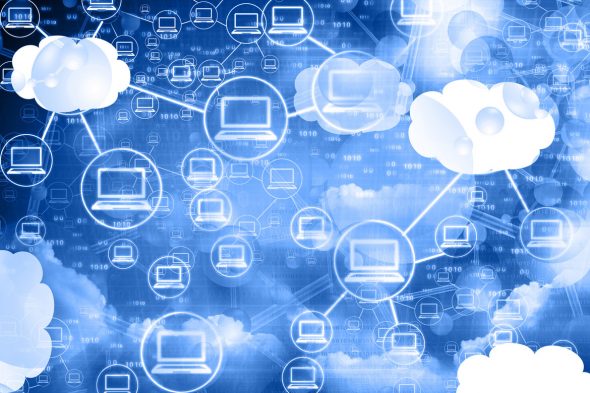 To Sum Up
In 2017, we can expect new patterns to emerge in the cloud sector. The race between public cloud providers is tightening as their market shrinks, private cloud adoption has slowed down while organisations shift focus on optimising cloud costs. Also, Docker is now leading in the DevOps sector with high adoption rates. Even though the security issue is not the biggest concern anymore, there still no useful level of consensus on what constitutes best practices for cloud security, and as a result, organizations still struggle to find the right tools to control processes and products.
Also, the increasing focus on IaaS security draws attention from SaaS security concerns, an essential factor for companies that rely on cloud applications. It's safe to say that cloud computing security implications are still not completely understood, which is why security and risk management operators must carefully drive their organizations through the ever-evolving areas of implementation and purchasing best practices. In case your company is struggling with choosing and implementing the right cloud solutions and processes, feel free to consult with one of our experts here at GlobalDots.