3 Min read
LeaseWeb Introduces CloudStack Private Cloud in Germany
LeaseWeb, the provider of web hosting services and CDN solutions announced the expansion of it's LeaseWeb Private Cloud offering that is powered by Apache CloudStack. The new extension is built for tech-savvy cloud users including system integrators, MSPS, VARs, Internet media and application developers, allowing them to flexibly create and manage multiple instances . The solutions enables users to assign dedicated cloud resources, and thus giving them the liberty to customize their virtual infrastructure according to their requirements. After launching in US, Amsterdam and Germany, LeaseWeb plans to expand globally and offer this high-performance solution to customers all across the globe.
Read the full report at CDN Advisor.
Dropbox Slashes Its Prices – Adds New Features To Fight Competition
Dropbox's officials announced that their customers will now get one terabyte of storage space for $10. The reason behind this being the growing competition between online storage companies in the technology domain. Dropbox users received 100 gigabytes for $10 and now they will be receiving 10 x that amount for the same price. Earlier this year, Google dropped their prices on their drive data storage from $50 to $10 for one terabyte space and now Dropbox is left no other choice except to slash their prices. In order to put themselves in a better position, Dropbox is now adding special security and attractive additional features to their "pro" plan. Earlier this year, Google dropped their prices on their drive data storage from $50 to $10 for one terabyte space, giving no choice to Dropbox but to follow.
Check the full story at CloudTweaks.
America's federal states with the fastest/slowest Internet
Virginia tops the list of the states with the fastest Internet, with an average Internet speed of 13.7 megabits per second. Massachusetts and Delaware tied for second at 13.1 Mbps, followed by Rhode Island and the District of Columbia at 12.9 and 12.8 Mbps, respectively. Alaska came in last place at 7 Mbps—not too far behind Montana, Kentucky and Arkansas. all states saw an increase in their average connection speeds except for Virginia, which dropped 4.3% from its speed in the fourth quarter of 2013. Historically, the East Coast holds the title for the fastest Internet connection speed in the US.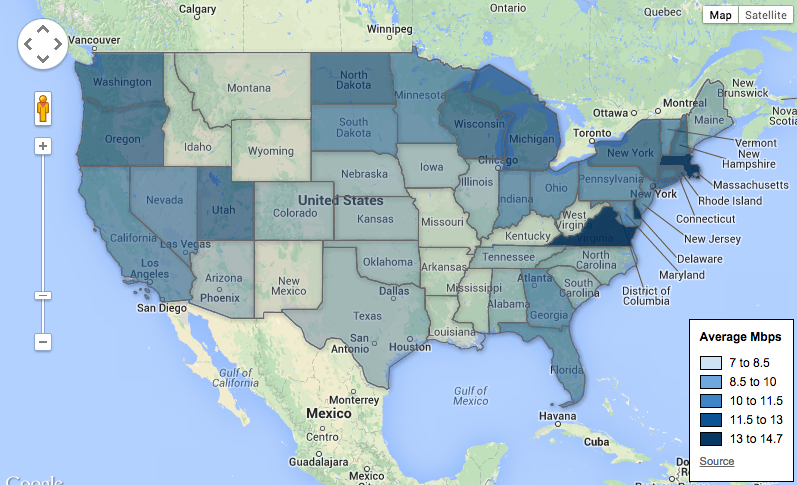 Full story at Time Magazine.
Cedexis Case Study – Why You Need a Multi-CDN
Wednesday morning marked a significiant network outage. Cedexis studied the impact the outage had on the 5r major CDN-s. The top 5 CDN providers being studied are Akamai, Limelight, Highwinds, Level3 and Fastly.
Akamai actually got FASTER during the outage, due to lack of competing traffic from the other CDN-s who weren't able to reach the ASN. Some CDNs do better than others given any particular outage event. If enterprises multi-home in the correct way they can achieve 100% uptime and the best possible latency. The CDN-s that are embedded correctly into the ISPs are the ones that survive when these types of outages occur.
The really valuable insight here is the value of a multi-CDN strategy. For a robust multi-CDN strategy, contact sales@globaldots.com and protect your CDN from a network outage.
Check the story at Cedexis Blog.
Downtime In Cloud Computing
There have been bigger and smaller outages in 2014. A 2013 research paper estimates 2007-2012 losses caused by cloud service providers to be $273 million, which might not be an astonishing figure, given the size of the industry. No service can realistically guarantee even near-constant uptime. 99.9% a month is still 45 minutes of allowed downtime, and a few unlucky businesses can very well suffer from that. Certain types of businesses, such as brokerage firms, can suffer immensely from any downtime. The best plan is to have a backup (simply host a read-only version of the website in a seperate date center, but it doesn't fare well with websites hosting terabytes of user-generated content) or to implement challenge-response mechanisms that automatically check the integrity of the data. This is the cheaper solution, but ultimately only protects your data, not your uptime, which remains in the hands of the cloud provider service.
Full article at CloudTweaks.