Are you running an e-commerce on the web? The first rule of e-commerce says that if the customer cannot find your product/service, he cannot buy it. The number of web shoppers in US alone in 2019 was 224 million and is to reach 230 million by 2021 (source: Statista) which will equal 90% of all internet users in US.
Now, to consider the patience of your customers. The majority of Americans are said to wait in line (in a real shop) for no longer than 15 minutes. However, on the web, 1 out of 4 customers will abandon a webpage that takes more than 4 seconds to load.
We already discussed 10 reasons why you should speed up your website as well as key eCommerce performance metrics that influence conversions.  Also, Google found out that slowing search results by just 4/10ths of a second would reduce the number of searches by 8,000,000 per day. (source: Getelastic)
Do you still think that if the product is on the web, your customers can find it quickly?
Amazing results – Being One Second Faster
Whether your customers are there for a pretty interface, clear privacy policies, for the best bargain, or simply because they have found exactly what they were looking for, they had to get there in the first place, and quickly. If you could cut that path to your website even shorter, and this is a matter of milliseconds, you could convert more visits to actual orders.
The conversion rate is the percentage of users who take a desired action. The archetypical example of conversion rate is the percentage of website visitors who buy something on the site.
Example: An ecommerce site is visited by 100,000 people during the month of April. During that month, 2,000 users purchased something from the site. Thus, the site's conversion rate is 2,000/100,000 = 2%.
The majority of businesses fail to create an efficient conversion rate optimization strategy. A website only has a 5-10 second window to make a good impression and start the dialogue between the product and the customer.
Here are some facts:
47% of people expect a web page to load in two seconds or less
40% will abandon a web page if it takes more than three seconds to load
52% of online shoppers claim that quick page loads are important for their loyalty to a site
14% will start shopping at a different site if page loads are slow
23% will stop shopping or even walk away from their computer
64% of shoppers who are dissatisfied with their site visit will go somewhere else to shop next time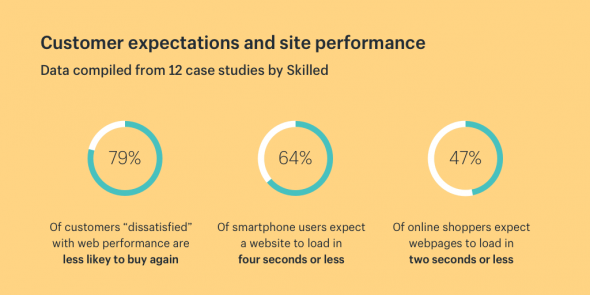 An advantage of 250 milliseconds of a page load time, according to recent research, is what keeps your customer from going to your competitor. Have you done research to compare your page load time with competitors?
Take an example of Walmart. When they found out they were not the fastest retail site on the internet, compared to EBay, Amazon etc., they have decided to overhaul their site speed. As a result:
For every 1 second of improvement they experienced up to a 2% increase in conversions
For every 100 ms of improvement, they grew incremental revenue by up to 1%
Giants like Amazon, Shopzilla, Yahoo, AoI and Mozilla all did the same, and made their results available (see the graph below).
Shopzilla speeded up average page load time from 6 seconds to 1.2 seconds, and increased revenue by 12% and page views by 25%.
Amazon increased revenue by 1% for every 100ms of improvement (same as Walmart).
Yahoo increased traffic by 9% for every 400ms of improvement.
Finally, Mozilla got 60 million more Firefox downloads per year, by making their pages 2.2 seconds faster.
Or, to take a different turn on stats, a giant, such as Amazon can suffer a loss of $1.6 billion from a slowdown of page load time of just a single second.
What Can You Do To Overhaul Your Site Speed?
When we talk about eCommerce, it's safe to say that modern website acceleration, monitoring and security technology exists to solve many of the issues faced by online stores and they provide several benefits:
Improved performance allows several people to browse stores and make purchases at once without slowdown.
Dynamic website acceleration allows for the fast delivery of constantly changing content such as stock levels and new product information.
Shopping cart acceleration ensures that customers aren't left waiting at the final hurdle.
With many users abandoning shopping carts if loads times are too slow, this can help boost sales and limit lost opportunities.
Streaming technologies can be used to provide rich advertising and promotional media to website visitors.
Stores, warehouses and head offices can be connected via high speed networks to ensure that all stock levels are kept up to date and new product information can be disseminated quickly.
Analytics information can be used to inform future product decisions.
Use website speed testing tools, such as Pingdom, or Page Speed Insights. In this way, you can continually make improvement to balance your conversion and bounce rate. You can precisely detect components that are slowing down your site.
To learn more about website speed optimization, and to analyze your current website speed and performance take a look at this article.
Reduce the number of components of your page. Make a simple design. This will immediately reduce the number of HTTP requests to download all the graphics, video, JavaScript files from your website.
Don't forget to optimize images and video in size and format. Images take up 60% of an average storefront page, JPEGs take longer to respond than other content types (except flash) and they are still making a majority of requests for image type, followed by PNGs andGIFs.
Use a Content Delivery Network (CDN). You are deploying your content across different geographical regions, and the speed of this delivery does not need to rely on the proximity of this region to your web server. An implemented content delivery network (CDN) uses servers deployed in multiple data centers. By choosing a CDN hosting over a standard one, you ensure that the content is delivered from a server located closest to the end user.
To put it more simply, the purpose of a CDN is to improve user experience and provide it with a more efficient network resource utilization. Content providers such as media companies and e-commerce vendors pay CDN operators to deliver their content to their end-users.
Given the increasingly international nature of ecommerce, leveraging a CDN — or multi-CDNs — is a non-negotiable ingredient your platform should provide and optimize regularly.
This will also save you money on buying additional hardware and software for the server.
Clean up your code. Many extra lines and tags in your code exist but are not necessary for the website to function. These 'junk' lines always mean extra work for browsers.
Optimize for mobile. One sales channel you can't afford to ignore is mobile. That's because more people use mobile devices than desktops. It's also a key channel for researching products and services.
If you want to learn more about how to increase your website speed and conversions feel free to take a look at this article.
Takeaway
For websites, especially eCommerce websites, speed matters. Speed has a direct impact on conversion rates.
If you have any questions about how we can help you speed up and protect your website and business from cyber-attacks, contact us today to help you out with your performance and security needs.
Latest Articles
In the competitive world of aviation, where alliances are often forged with rivals, and competitors share skies as partners – GlobalDots is your co-pilot in navigating clouds of looming threats. Now, we are introducing our new e-book, which explores our curated innovative solutions for Aviation, including: Nowadays, where buying a ticket is just the beginning […]
Before widespread cloud adoption, the cloud's major selling point was a reduction in computing costs. Today, however, many organizations find themselves mired in increasingly costly and complex cloud environments, even forcing industry leaders such as Nvidia back toward on-prem setups. The priorities upheld by DevOps throughout the last decade have played a major role in […]