FOR IMMEDIATE RELEASE: 6th March 2018
GlobalDots and ScaleFlux Announce the Solid State Drive (SSD) Revolution in Database Computing
It's time to deploy an affordable infrastructure that breaks through existing server & storage paradigms.
Berlin, Germany: GlobalDots, a leading web performance and cloud security system integrator announced today a partnership with ScaleFlux, Inc., the pioneer in the deployment of Computational Storage at scale, to deliver products that greatly optimize infrastructure efficiency and scaling for hyperscale and webscale clients worldwide.
ScaleFlux ships the industry's first production qualified Computational Storage Subsystem (CSS) products for customer deployment. CSS alleviates expensive CPU processing limitations by bringing computationally advanced algorithms straight to the data, simultaneously defeating storage and compute bottlenecks. The combination of terabytes of 3D NAND flash, reprogrammable low-power FPGAs, and state-of-the-art flash controller technology enables powerful validated acceleration for an increasing list of data-driven applications:
Efficiency Advantage of CSS vs. Standard NVMe:
2.7x better transaction rate with Aerospike

3.5x better transaction rate with PostgreSQL

3.6x better flash capacity utilization with MySQL

2.3x faster queries with Vitesse Data Deepgreen Db

2.2x better KV-Store write throughput with RocksDB

2.4x better transaction rate with Apache HBase

1.7x more jobs completed (vs. HDD) with Hadoop

1.7x more jobs completed with Apache Spark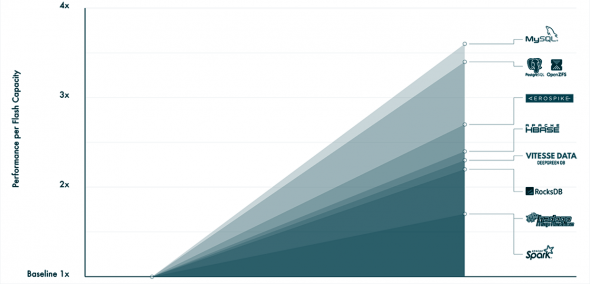 CSS products have been shipping to customers worldwide to proven success. Easily installed into servers through standard PCIe HHHL AIC and 2.5" U.2 drive level form factors, CSS creates immediate impact in datacenter scaling capability and cost reduction. ScaleFlux's strategic partnership with GlobalDots will carry this momentum to the waiting hands of a widespread audience.
"It is my pleasure to announce that GlobalDots is now a proud partner of ScaleFlux. ScaleFlux has an amazing product that will dramatically change how we approach database computing, and this partnership offers us a way to bring them closer to more satisfied end-users." said Thorsten Deutrich, VP Sales of GlobalDots.
What makes GlobalDots so unique is the fact that they work with practically every vendor in the industry and specific verticals. This enables their team to have an in-depth knowledge of every specific technology and solution – knowledge, real-world scenarios and use cases that internal IT teams often lack due to complexity and time needed to learn, analyze, test, deploy and monitor in production environments.
"GlobalDots will accelerate the proliferation of Computational Storage with its worldwide customer base whose business is dependent on data-driven applications. We are looking forward to partnering as we jointly deliver innovative solutions that change the way both compute and storage infrastructure scales and enable new revenue generation opportunities for our customers," said Thad Omura, EVP Marketing for ScaleFlux.
GlobalDots and ScaleFlux will present Computational Storage Subsystem 1000 Series at the upcoming CloudFest in Rust, Germany from March 10-16th.
About GlobalDots: GlobalDots is a leading web performance and cloud security system integrator, hardware broker and colocation provider with over 15 years of experience. GlobalDots' unique positioning on the global market enables them to be at the forefront of every new technology and with that unique expertise GlobalDots helps numerous clients to quickly and cost effectively choose, test and deploy the best solutions to service their customer base.
Their clients range from Fortune 500 to small & medium enterprise to promising startups in practically every industry and vertical.
Iconic brands like Lufthansa, Playtika, Trading View, Lamborghini, Bosch, Fiat, Rocket Internet, Benetton and Bulova trust GlobalDots to help them accelerate and secure their digital assets.
About ScaleFlux, Inc.: ScaleFlux is the pioneer in the deployment of computational storage at scale. Computational storage is the foundation for modern data center infrastructure that provides responsive performance, affordable scaling, and an agile platform for data-driven, compute and storage I/O intensive applications. Founded in 2014, ScaleFlux is a well-funded startup with a team proven to deploy complex computing and solid-state storage solutions in volume. For more information, visit www.scaleflux.com. #compute2data
For additional inquiries, please email marketing@globaldots.com
Latest Articles
In the competitive world of aviation, where alliances are often forged with rivals, and competitors share skies as partners – GlobalDots is your co-pilot in navigating clouds of looming threats. Now, we are introducing our new e-book, which explores our curated innovative solutions for Aviation, including: Nowadays, where buying a ticket is just the beginning […]
Before widespread cloud adoption, the cloud's major selling point was a reduction in computing costs. Today, however, many organizations find themselves mired in increasingly costly and complex cloud environments, even forcing industry leaders such as Nvidia back toward on-prem setups. The priorities upheld by DevOps throughout the last decade have played a major role in […]