5 Min read
As the internet becomes more complex, many services that have traditionally only been available offline can now be accessed via the web. One such activity is online shopping and other financial based activities. The popularity of online shopping has been increasing steadily in recent years, with many users opting to buy over the internet instead of heading to their local high street.
While this provides consumers with greater choice and flexibility, it also comes with some costs, most notably security and performance issues. As the growth of ecommerce and online shopping shows no signs of abating, businesses must find ways to keep up with this demand.
In this article we'll discuss ecommerce performance optimization practices, with focus on the technical aspects.
Ecommerce performance optimization
Optimizing ecommerce performance is a complex subject, with many different approaches and strategies focusing on specific areas (for example rewriting product page copy or optimizing time to first byte).
However, all these optimization strategies have a common goal to increase conversion rates (and bring in more revenue).
Conversion rates are always almost the same (2-3%) across most of the eCommerce sites below top 1000. Experts suggest that low conversion in general is due to the complexity of converting a viewer to a customer. Recent trends show that it's getting harder to improve the conversion rates due to the situation of the web industry, given all the complexities of conversion decision, funnels, buyers stage, infrastructure and so on.
Here are some facts:
47% of people expect a web page to load in two seconds or less
40% will abandon a web page if it takes more than three seconds to load
52% of online shoppers claim that quick page loads are important for their loyalty to a site
14% will start shopping at a different site if page loads are slow
23% will stop shopping or even walk away from their computer
64% of shoppers who are dissatisfied with their site visit will go somewhere else to shop next time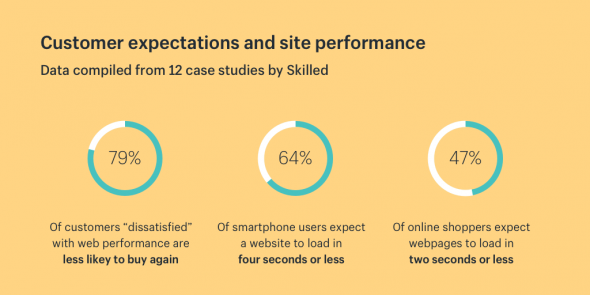 Modern website acceleration, monitoring and security technology exists to solve many of the issues faced by online stores and they provide several benefits:
Improved performance allows several people to browse stores and make purchases at once without slowdown.
Dynamic website acceleration allows for the fast delivery of constantly changing content such as stock levels and new product information.
Shopping cart acceleration ensures that customers aren't left waiting at the final hurdle. With many users abandoning shopping carts if loads times are too slow, this can help boost sales and limit lost opportunities.
Streaming technologies can be used to provide rich advertising and promotional media to website visitors.
Stores, warehouses and head offices can be connected via high speed networks to ensure that all stock levels are kept up to date and new product information can be disseminated quickly.
Analytics information can be used to inform future product decisions.
Leverage a content delivery network (CDN)
A Content Delivery Network (CDN) is a globally distributed network of web servers whose purpose is to provide faster delivery, and highly available content. The content is replicated throughout the CDN so it exists in many places all at once. A client accesses a copy of the data near to the client, as opposed to all clients accessing the same central server, in order to avoid bottlenecks near that server.
To put it more simply, the purpose of a CDN is to improve user experience and provide it with a more efficient network resource utilization. Content providers such as media companies and e-commerce vendors pay CDN operators to deliver their content to their end-users.
Given the increasingly international nature of ecommerce, leveraging a CDN — or multi-CDNs — is a non-negotiable ingredient your platform should provide and optimize regularly.
Cache often
Caching is a mechanism for the temporary storage of web pages in order to reduce bandwidth and improve performance. When a visitor arrives at your website the cached version will be served up unless it has changed since the last cache. This saves server time and makes things altogether faster.
Mobile pages especially rely on a lot of redirects from one URL to another, replacing "www" with "m." To avoid getting bogged down and speed up the page load time, caching will be your best friend. But also keep in mind that caching storage on mobile devices is much less than on desktops, so ultimately it's best to keep redirects to a minimum and serve up pages to the user directly.
Optimize for mobile
One eCommerce channel you can't afford to ignore is mobile. That's because more people use mobile devices than desktops. It's also a key channel for researching products and services.
Speed up your site. Mobile users have limited patience. If your site takes more than 3 seconds to load, 40% of mobile users will leave.
Use Videos. According to data, 90% of consumers watch videos on mobile devices. Even more important, 84% of consumers have made a purchase after watching a video.
Optimize For Mobile Search. Mobile SEO is an important part of winning conversions. With Google's mobile-first index a reality, you can't ignore this if you want mobile users to find your content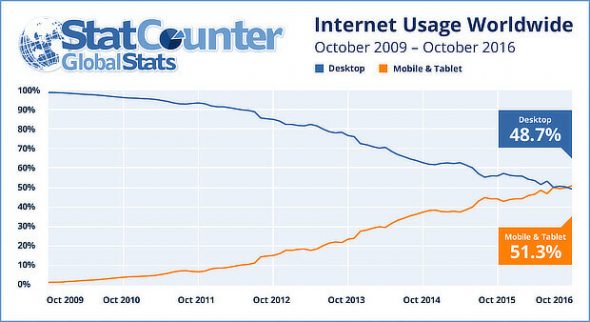 Reduce image size
Images take up 60% of an average storefront page, JPEGs take longer to respond than other content types (except flash) and they are still making a majority of requests for image type, followed by PNGs andGIFs.
Once you have reduced the file sizes of your images, you need to strategize your image dimensions and product angles, especially if you are using extra images to display different shots of a single product. You should also, where possible, make available a smaller image that can be viewed in a larger pop up scale. Do not put the largest image on your landing page. You should also use thumbnails and image sitemaps, but not without being careful.
Basic optimization includes cropping unnecessary space, reducing color depth to the lowest acceptable level, removing image comments, and saving the image to an appropriate format. This can be done with almost any image editing program. Advanced optimization involves further (lossless) compression of JPEG and PNG files. On WordPress, you can use WP Smush.it tool to optimize JPEGs, PNGs and GIFs.
Conclusion
By utilizing acceleration technologies in these ways, ecommerce businesses can ensure that customers have a hassle free experience when purchasing items online. This will reflect well on the brand and encourage customers to visit regularly.
If you have any questions, contact us today to help you out with your performance and security needs.