3 Min read
To quote Frank Childs, director and product marketing manager at Akamai Technologies, "CDNs have always been there to deliver performance and make the internet usable for broadband, but a lot has changed in the last five years." Now that we have entered the era of hyper-connectivity, the internet traffic has exploded, e.g. from 1 terabit delivered to 15 terabits delivered at Akamai, and the level of complexity went up – a transition has been made from using internet at home mostly, to expecting quick access to multiple services from mobile devices, the number of which has now topped 1 billion.
Check out the video from Akamai on the evolution of CDNs, with Frank Childs.
Charles White, chief revenue officer at Mirror Image, comments on the same topic for the
EContent magazine
:
"The shift towards a mobile and app-based internet is rapidly changing the role of the CDN. Higher bandwidth capabilities overall, coupled with our on-demand society, have caused customers to recognize the need for more than traditional content delivery. Today, content delivery must be highly customized to further maximize the end user experience."
The shift requires adjustments from both e-commerce vendors and network operators. They need to work towards better using CDN to – simplify things.
For a quick introduction to content delivery networks (CDNs) please visit our knowledge base. Also, to understand different generations of CDNs, read our post on the history of Content Delivery Networks.
What does CDN simplify, exactly?
In a nutshell;
No need to repeat ourselves about how and why site speed is important. It affects everything, from user experience, your overall revenue, to SEO results. There are many optimization tricks that you can use to speed up your website, but nothing will leverage the venture as using a Cloud CDN service, i.e. simplifying the server infrastructure.
CDN system decides the data center location from which the web content will be served to end-user based on numerous factors such as proximity, speed, latency, and availability.
As your website grows larger and larger, employing remotely located CDN servers and renting this service if and when needed from a specialized provider is much simpler and cost effective than maintaining on-premise servers and hiring your own IT stuff to overhaul their performance repeatedly over time.
With gadgets that can connect from just about anywhere and at anytime, the costs for providing hardware and bandwidth for mobile broadband can only climb up, and effective solutions can only be those that can go beyond geographical location and reduce the need for extra hardware/software.
Next Step? More Interactivity, More Dynamics
Serving the demand of the internet crowd for more interactivity is the main focus of the second generation CDNs. This is a new standard for reaching your end users effectively, a new secret ingredient, perhaps? The next step will be to make CDNs completely community driven.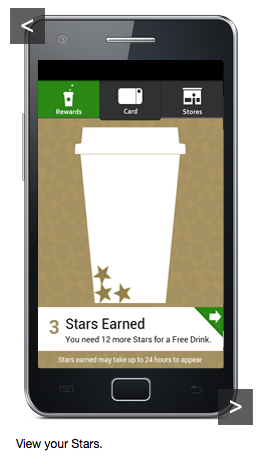 Image 1 – Starbucks for Android – earning stars for a free drink (interactivity)
Many e-commerce giants (e.g. Starbucks, see the image above) have already realized the potential of moving their online content more dynamically, where user controls the interface and is engaged in moving content.
Content Delivery Networks thus oft include Dynamic Site Acceleration services (e.g. Akamai, Limelight, Contendo include DSA). This allows vendors to deliver highly interactive content without investing in additional hardware buildout, and optimizes latency and varying round-trip time of the desired content. This translates into a:
better user experience
more interactions
more clicks
better conversion rates
better reliability of the connection through all parts of the route
higher overall visibility
For further reference, view our list of CDN companies or if you need content delivery network for your company, let us know, we can provide both performance-oriented CDN solution or reduce your costs while maintaining competitive edge.