4 Min read
Arsenal Football Club Leverages Limelight Orchestrate to Optimize its Arsenal.com Website
Limelight Networks, the global provider of digital content management and Content Delivery Networks, announced that the Arsenal Football Club has deployed its Limelight Orchestrate Delivery and Performance services to optimize its Arsenal.com website and provide its 100+ million fans around the globe with a faster and better browsing experience. The Club's website has seen huge spikes of traffic from its fans who wanted to check the latest match results, game schedules or player profiles.Arsenal's old CDN provider could not many times scale the website to meet these surges and it resulted in website's outage, which led to a bad browsing experience for its end users. This is when Arsenal Football Club decided to move to Limelight Networks – the transition has been very smooth and the website's user experience has increased a lot.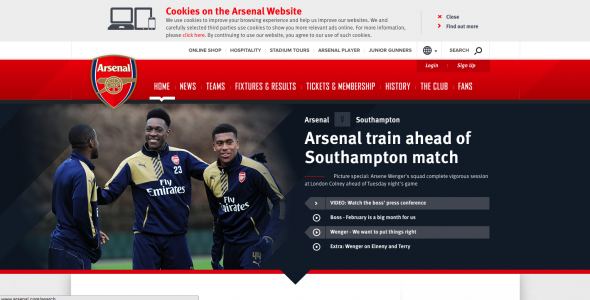 Full article at: CDN-Advisor
Aryaka Improves Application Delivery Performance for Skullcandy by 1000%
Aryaka, the provider of as-a-Service solutions for WAN Acceleration, Networks and Cloud Networks, announced that Skullcandy, the creator of popular high-quality speakers, ear phones, headphones and related accessories, has ditched its existing MPLS circuits and deployed Aryaka's Network for Cloud solution to connect its offices across the United States, Germany, Canada, China and Japan. Skullcandy's previous cloud-based ESP solution , was behaving quite slow on its MPLS connection, but deploying of Aryaka's solution improved the performance by almost 10x. Deploying Aryaka's solution also resulted in 93% reduction in data across all applications and up to 40 Mbps peak bandwidth savings for Skullcandy.
More details at: Aryaka
Hibernia Networks Acquires Alternative Backhaul Infrastructure to Further Lower Latency of Hibernia Express
Hibernia Networks, the provider of high-speed telecommunications and networking services, announced that it had acquired alternative backhaul infrastructure to further improve the performance of its Hibernia Express transatlantic cable route and provide ultra-low-latency connectivity between London and New York. Hibernia Networks had already reduced latency on the Hibernia Express to sub 58.95ms, and to further reduce latency it added alternative backhaul routes in United Kingdom as part of its phase one deployment. Utilizing state-of-the-art radio frequency transmission technology and an innovative route design, the accelerated network performance solidifies Hibernia Networks' position as the provider of the lowest latency services on the transatlantic corridor.Hiberia also dropped one big announcement as well – it's Hibernia Express subsea cable is already RFCS tested at 44.92ms.
More details at: HibernianNetworks
Akamai Optimizes Nokia Technologies OZO VR Experience
Nokia Technologies partnered with Akamai to deliver a live stream using the Akamai Network. Nokia Technologies used an OZO to live stream a performance by California surf-rock band Best Coast from atop the Capitol Records tower in Hollywood to guests and press at the event in downtown Los Angeles, who got to watch via VR headsets. There were two major challenges – the first was to transport the live stream over the general internet from the recording site to the event venue, which was seven miles away – and the second, to accommodate concurrent playback at the reception venue. Using UDP for the first mile helped stabilize any throughput fluctuations from the production site. Once at the ingest server, the stream was moved through the Akamai Intelligent Network and delivered via an edge server in Los Angeles to the event venue via their WAN link. Akamai's team quickly supplied Nokia Technologies with a Cisco WAVE Appliance with Akamai Connect SW to test and validate live and on-demand HTTP/S video caching. Akamai Connect integrated into Cisco hardware was able to offload video traffic from the event's WAN and optimize stream quality for each player. The overall VR experience was a success. Akamai Media Services Live plus Cisco IWAN with Akamai Connect was an integral component to making the demo a success.
Read more at: Akamai Blogs
World's Largest DDoS Attack Breaks Records, Clocks At Massive 500 Gbps
Arbor Networks reports on the biggest distributed denial of service attack, which had a whopping load of 500 Gbps. The yearly Arbor survey uses data from hosts, mobile service providers and service providers. The survey, which ran until November 2015, got the results based on the 354 global participants who answered questions on network safety specifically about protocols used for reflection/amplification. The largest attack reported by a respondent this year was 500Gbps, with other respondents reporting attacks of 450 Gbps, 425 Gbps, respectively. This marks a worrying trend among top-end size DDoS attacks, which get more ambitious every year. While only five respondents found evidence of DDoS attacks topping 200 Gbps, there were many reports of attacks between 100 and 200 Gbps. A vast majority of respondents identified application-layer DDoS attacks, which targeted DNS services instead of Web servers. Looking at the larger picture, multi-vector attacks counted for 56 percent of customer outages, up from 42 percent in the previous year.
Read more at: TechTimes