3 Min read
Brian Krebs reveals Mirai's creator
Cyber security journalist and researcher Brian Krebs reportedly discovered the identity of the hacker that created the Mirai malware. The hacker, known online by the pseudonym Anna Senpai, used the malware to recruit hundreds of thousand of unsecured IoT devices into a botnet intended to launch massive DDoS attacks such as the one against DNS provider Dyn on October 22. After months of investigations, Krebs detected several sources and evidence revealing the identity of Anna Senpai. According to Krebs, the mastermind behind the malware is allegedly a student and owner of a DDoS protection provider, Paras Jha.
Read more: Hacking Threat, KrebsOnSecurity
European websites – too slow for Chinese consumers
According to a new report released by CDNetworks, around 85% of European websites in China don't meet local consumers' expectations. The paper suggests that an overwhelming portion of Europe based websites fail to load in under 4,8 seconds. In fact, data suggests that an average load time for European websites in China is 33.1 seconds. The study analysed German, Italian, Danish, French, Swedish and British based business operating in China and included more than 1,700 websites.
CDNetworks says that one of the main reasons for such low performances could be due to the Great Firewall of China, the state sponsored censorship apparatus.
Read more: Internet Retailing
SaaS businesses lost an average of $195K in 2016 due to poor performance
Catchpoint Systems, a digital performance analytics company, in collaboration with TechTarget, surveyed 141 SaaS IT professionals to detect the main pains and subsequent costs when it comes to performance across the SaaS industry.
The findings suggest that SaaS providers are pushed to commit significant personnel and financial resources to provide a high level performance of their service. Catchpoint then used the gathered data and proceeded to calculate the linked costs of poor performance for typical SaaS business in 2016. The combined costs of multiple factors such as SLA penalties, customer churn and personnel resources amount at an average of $195,943.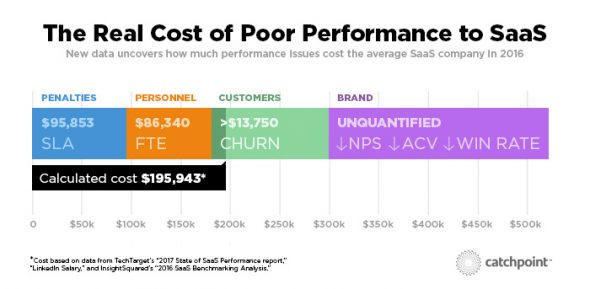 Read more: Catchpoint Blog
Dynatrace launches Cassandra database monitoring tool
Last week Dynatrace introduced their new product, Apache Cassandra Monitoring tool. Still in beta, Apache Cassandra server monitoring tool is a free open-source distributed database management system intended for handling large amounts of data across many commodity servers.
Dynatrace stated their tool gives detailed info on database exceptions, failed requests, performance, as well as immediate notifications of underperforming Cassandra databases.
Read more: Dynatrace Blog
Google Chrome's Alex Russell on the future of mobile
Fastly published a recap post about Alex Russell's talk which he held at Altitude, their customer summit. Russell, software engineer at Google Chrome, focused on service workers, how they work and what's next, as well as the use of progressive web apps which can help provide an engaging experience for end users without businesses having to build multiple instances of a web product, demonstrating how to offer reliable offline experiences and avoid the "Uncanny Valley" – the period of time when users are unable to interact with a loading site.
Read more: Fastly Blog