4 Min read
The term Internet of Things (IoT) is used to denote advanced connectivity of devices, systems and services that goes beyond the traditional machine-to-machine (M2M) and covers a variety of protocols, domains and applications. It's a network of physical objects accessed through the Internet, as defined by technology analysts and visionaries. These objects contain embedded technology to interact with internal states or the external environment. In other words, when objects can sense and communicate, it changes how and where decisions are made, and who makes them.
The planet has basically grown a neural system, allowing us to access data all around the globe for our benefit. It is fundamentally changing the way we do business, it's surfacing greater efficiencies, driving deeper customer connections and introducing new business models and revenue streams.
On the following link you can read the basics of Internet of Things.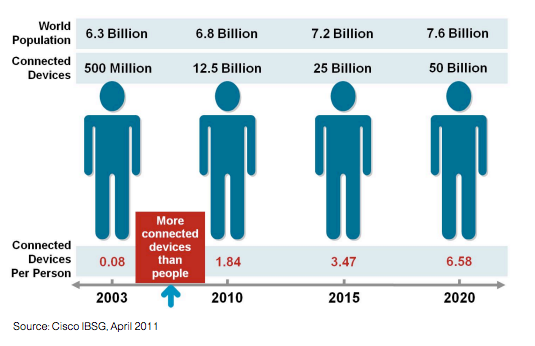 Source: Cisco
The three most important drivers for Internet of Things projects are now new revenue streams and enabling new services, as well as operational efficiency and then improving existing services and the consumer experience. The opportunities across the Internet of Things, depend on our ability to deliver intelligent services across the network of connected devices, and to achieve this in real time.
Let's put it simple; everything goes mobile, from people to devices, and enables communication and data collection.
The top benefits a company can realize in adopting their own IoT strategy are:
Get a jump-start on your competition. As more enterprises adopt strategies to capitalize on IoT, it's becoming increasingly important to do the same—like those who have grown business 70 percent after connecting a factory floor to technicians in Italy, taken thousands of cars off the streets of Paris through an intelligent car-sharing service or united disparate data streams and systems in a hospital to provide physicians anywhere, anytime access to critical patient data.
Get more out of your existing IT assets. You don't need to rip and replace your IT to begin to see value from IoT. Start with your existing IT assets and build upon them. Add a few new devices, connect them to the cloud and enable them to talk to each other, to your employees and to customers. Transform your business by utilizing the data those devices generate with business intelligence tools to gain deeper insight into what your customers and employees want and need.
Enable small changes to make a big impact. The Internet of Things starts with identifying the one process, product line or location that matters most to you, then making small changes for big impact. Connect robots on the factory floor with back-end systems and create a production line with more continuous uptime. Connect devices and data streams on board your cruise ship and suddenly you've got a real-time, personalized on-board experience.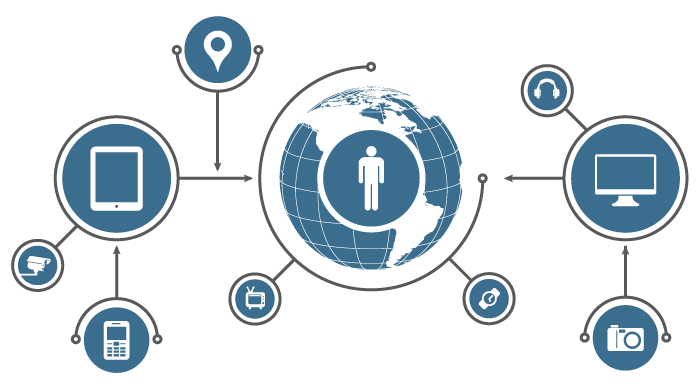 Estimates for Internet of Things or IoT market value are massive, since by definition the IoT will be a diffuse layer of devices, sensors, and computing power that overlays entire consumer, business-to-business, and government industries. The IoT will account for an increasingly huge number of connections: 1.9 billion devices today, and 9 billion by 2018. That year, it will be roughly equal to the number of smartphones, smart TVs, tablets, wearable computers, and PCs combined .
IoT heavy hitters form a new alliance
Qualcomm, LG, the Linux Foundation and other IoT experts are joining forces and forming an alliance. The AllSeen Alliance, as it's called, have tasked themselves of creating and maintaining unified standards for device-to-device communication. The Linux Foundation stated that the move is aimed at accelerating the Internet of everything, which will transform homes and businesses with a wide range of everyday devices, objects and machines that are always connected and communicating. Basically ensuring that more and more electronic products can work together regardless of the brand, and form a new era of smarter technology. The Linux Foundation alliance is the largest consortium of it's kind. Considering the high risk, privacy and security issues, inter-device communication is more so compelling for customers and businesses alike. There's also a security benefit in the open-source nature of the project.
Here's the full roster of AllSeen Alliance charter members:
Qualcomm, LG Electronics, Sharp, Haier, Panasonic, Silicon Image, Cisco, TP-LINK. Canary, doubleTwist, Fon, Harman, HTC, Le Shi, Lifx, Liteon, Moxtreme, Musaic, Sears Brand Management Corporation, Sproutling, The Sprosty Network, Weaved, and Wilocity.
Read the full report at VentureBeat.
BlackBerry reveals Project Ion, a comeback to the IoT scene
BlackBerry is mostly discussed in terms of its slow decline in the global smartphone market, which it once pioneered. The newly announced Project Ion combines multiple efforts designed to go hand-in-hand with IoT development. The goal is to give businesses access to all new kinds of insights by making a business and all of it's aspects into a data-gathering device. This includes a secure application platform based on QNX. Project Ion aims to work hand-in-hand with Android, acting as a default OS for individual connected devices; BlackBerry seems to want to be the connective tissue in a larger IoT nervous system.
Read more on TechCrunch.
Further reading on Internet of Things:
Related articles