3 Min read
The new version of Cedexis Radar development kit for mobile applications will be able to differ between the network connection types (3G, 4G, WiFi…), to capture any event or slice (a group of events) of interest to the mobile app developer, and bring back a more detailed mobile-specific reporting.
Version 2.0 Features
Cedexis Radar uses a unique community-based approach to measure the comparative performance of every major cloud and delivery network provider. Radar takes nearly 1 billion measurements per day from over 34,000 individual networks around the world. This provides users with an unmatched insight into the global performance and availability of the world's largest public infrastructures. They can define exactly which clouds, CDNs, and data centers are best for their customers. The new, revamped Cedexis Radar development kit can offer:
More insight into mobile and tablet application performance, while methodology remains the same (Image 1)
iOS and Android libraries for including Radar in your apps
Two types of measurements: radar remote probing, custom app-specific RUM events measurement and timing
More control: completely in the hands of the app developer
Network type identification (3G, 4G, WiFi): mobile performance is strongly influenced by the type of network connection used by the device
Network type exposure: customer may choose to offer different experience based on network toy such as cellular or WiFi, the information will be exposed via the Openmix API
Capturing app-defined custom events and slices: app developer can define and record any event and slice of interest in their app
Reporting and alerts for app-defined custom events and slices: web charts for showing the RUM data recorded by the SDK
More mobile-specific reporting: adding Mobile to reports (Image 2), adding Mobile Page Timing (Image 3)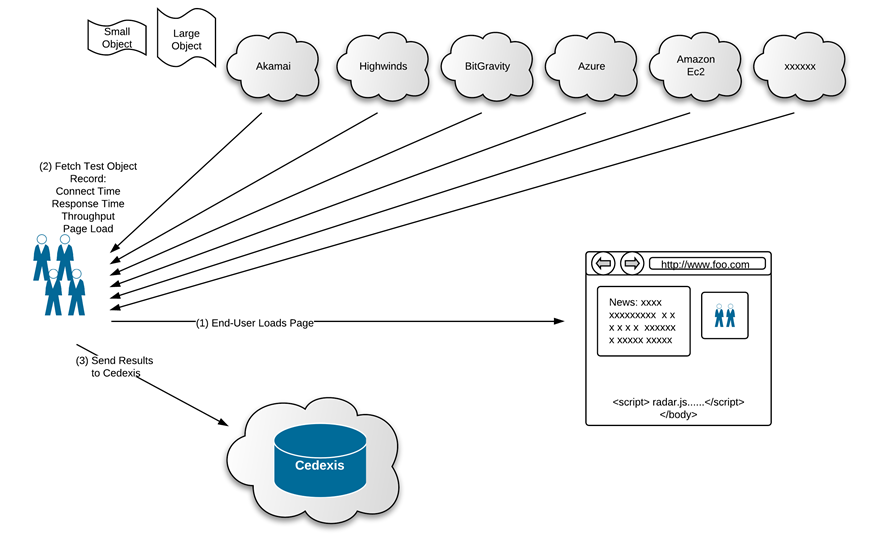 Image 1
Image 2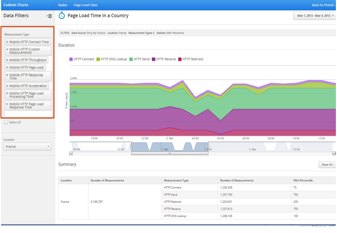 Image 3
Reporting is available today for all Radar remote probing measurements taken by the SDK. The SDK associates remote probing results with the existing mobile measurement types:
Mobile HTTP Custom
Mobile HTTP Response Time
Mobile HTTP Throughput
Mobile SSL Custom
Mobile SSL Response Time
Mobile SSL Throughput
The Radar remote probing data is available for use in Openmix scripts just like measurements taken by the JavaScript client. The data is accessible through the standard Openmix API.
Version 2.0 Implementation
No changes will be required from the client side to implement the Version 2.0 of Radar Mobile SDK. The features are already built into the previous version, and the remaining work will be all on the Cedexis backend. Version 1.0 of the Cedexis Radar Mobile SDK is fully functional and available for immediate download. Cedexis continues to constantly innovate on the Radar, due to the rapid growth of mobile phone and tablet adoption, and the growing need of their customers for the ability to embed Radar probing and Real User Measurements (RUM) into their mobile applications, to gain more view into the end user experience, and finally, to gain more insight into the overall performance of their mobile and tablet applications.
About Cedexis
Founded in 2009 by Marty Kagan and Julien Coulon, two veterans of web hosting and content delivery market, Cedexis optimizes web performance across data centers, content delivery networks (CDNs) and clouds for companies that want to reach new global markets. With Cedexis, companies can comparatively assess worldwide cloud performance and availability for informed vendor selection and making cost – and – performance trade offs. Cedexis also provides automation for dynamically optimizing traffic across clouds, data centers and CDNs to dynamically match the best-performing resource with local demand. Since revenue conversions and brand experience are directly tied to online performance; media, retail and consumer brand companies rely on Cedexis to ensure 100% availability, fast page loads, downloads and transactions to drive traffic and revenue at lower cost and risk. Cedexis is headquartered in Portland (OR) and Paris (FR) with offices in San Francisco (CA), London (UK) and sales representatives in Germany, Japan, Israel and Brazil.