3 Min read
The GlobalDots is on the road again – our team will be visiting a number of events and conferences that include some of the biggest and well-established names in the industry. Below you can find a full list of events that will be hosted around the world and we invite our readers, partners and vendors to meet us.
TechTober Fest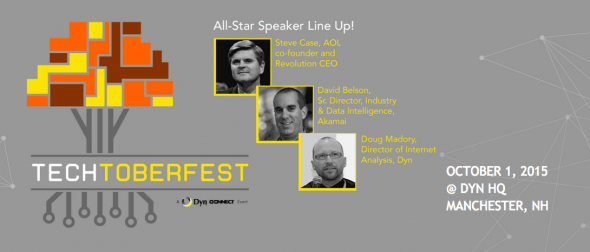 TechToberFest is a one-day event, created to provide inspiration, education, and the connections you need to ensure your business or organization is using the Internet to its fullest competitive advantage while transforming your online presence.
On October 1st, at Dyn's Manchester, NH headquarters, true tech visionaries will come together for an amazing day including:
Steve Case, AOL co-founder and Revolution CEO will lead thought provoking discussion about the "Rise of the Rest"
Hot topic debates with visionary leaders from Akamai, EMC, FireHost, Dartmouth College, and more
October awesomeness! We'll close out the day by enjoying some brews, bratwurst, and a live band
Eric Sciocchetti of the GlobalDots team will be attending the event.
Event info: http://dyn.com/connect/?LSD=RS_DynConnect_Manch_GlobalDots_Oct2015
eCommerce Russia & CIS
The eCommerce Russia & CIS is the largest eCommerce conference held in eastern Europe at the Moscow World Trade Center. The conference lasts for 3 days and it features over 90 speakers and 800 participants. The participants are mostly made of online retail menagers and experts on the field of eCommerce. The conference will be held from October 7th to October 9th. Thorsten Deutrich, our VP of sales and Dmitry Barakov, Country Manager of Russia & CIS will be joining the event. Find us at booth 20!
Event info at: http://conf.oborot.ru/
SysEleven customer event
The SysEleven conference is the first to appear, hosted by SysEleven. The goal of the conference is to share past business experiences as well as the business and techincal points of hosting. The event will be held at September 25th, 2015 in Berlin. GlobalDots is proud to sponsor the conference and our Thorsten Deutrich will be attending and presenting the latest web technologies.
Event info at: http://www.syseleven.de/blog/syseleven-konferenz-25-september-2015/
Akamai Edge conference
The Akamai Edge Conference is the premier global CDN and cloud services event, hosted by Akamai. This is the 8th annual Edge conference and it features a variety of speakers and with 2,000 peers, industry trendsetters and experts. The event dates from October 21st to 23th in Miami, US and is the most significant business conference in the industry. Stop by and say "Hi" to GlobalDots team.
Event info at: https://www.akamai.com/us/en/about/events/edge-conference/index.jsp
WAN IFRA 2015
WAN IFRA 2015, 45th World Publishing Expo 2015 is regarded as one of the vital events in the Publishing, Communication and Newspapers industries, with approximately 10000 visitors every year. WAN IFRA 2015 is organized by World Association of Newspapers and News Publishers, an association founded in 2009. The event will be held at the Hamburg Messe, from October 5th to October 7th. Daniel Sankarsingh, our Global Account Manager will be visiting the expo.
Event info at: http://www.wan-ifra.org/events/world-publishing-expo-2015