4 Min read
IBM's Supercomputer Watson To Help Cybersecurity Analysts
IBM has revealed their AI supercomputer Watson is ready to step up by helping cybersecurity analysts crunch data faster. Until now, Watson has been used for app development,but its most notable use has been in healthcare. IBM has been slowly feeding its AI with millions of security documents and research reports over the past year and is now ready to release the technology to help organisations mitigate cyber threats.
Watson for Cybersecurity will be merged into IBM's new Cognitive Security Operations Centre (SOC) platform. The goal is to get the supercomputer to chunk down thousands of hours of analysis. In-field tests were successful within over 40 organisations across the globe. IBM states it will greatly help with designing, building and managing SOC centres globally. IBM's developers have even built a Watson-powered voice assistant named Havyn whose purpose is to communicate with analysts on real-time threat updates and monitor the health of a company's security.
IBM is clearly tapping on a growing market where only 7% of InfoSec professionals are currently using cognitive tools with the usage expected to triple over the next 3 years.
Rackspace to Axe 6% of US Workforce
Rackspace, the managed cloud provider, announced they will lay off 6% of their US workforce. In their attempt to save funds for future projects, the cuts will affect underperforming divisions.
Cuts are to be expected in other countries as well, although the exact amount of personnel that will be released is still undisclosed. Rackspace CEO Taylor Rhodes stated in a blogpost that the reductions are "personally painful" but "necessary and manageable". They confirmed that the 6% reduction will represent nearly 300 employees in the US. Rhodes stated that the company will continue to be profitable despite the reductions, as it will invest in new and improved services for their customers.
Rackspace has recently moved under a new private ownership structure with Apollo Global Management in November, a move set to provide improved flexibility for Rackspace in the upcoming years years.
Read more: Rackspace
Dynatrace Releases New Tools for Real User Monitoring
Previously available only within the premium bundle Synthetic, Visually Complete and Speed Index measurement tools are now available for all Dynatrace users. It's a substantial step forward into gathering real-user-monitoring (RUM) metrics to integrate into core business metrics like bounce rates and conversions.
Patrick Meenan, founder of WebpageTest.org and Principal Engineer at Google claimed this opens a whole new level of insights which is great news for the industry:
"Most performance metrics do a good job measuring how a page loads but they don't necessarily translate into the real user experience. Visually complete provides a point-in-time metric that shows when the content is completely loaded (visually). Speed Index is the best available metric that tracks what the user is seeing as the page loads. Both of these can happen much earlier than the usual "page load time" and are great metrics to look at when optimizing user experience."
With performance being one of the main drivers for UX in today's world, and with notable impacts on business, Dynatrace's Real User Monitoring and Visually Complete provide end-user behavior and experience analysis as precise as never before. The release is a step closer to gathering exact data on end-user experience and provides a better insight into regular web applications by correlating performance outcomes and real business outcomes.
Read more: Dynatrace
Google Introduces Cloud Search For G Suite Users
Google business users will now be able to use the Cloud Search tool to find documents and folders among all of the G Suite products.
Google Cloud Search will respect existing sharing permissions but if a document is made available for the whole network, it will be detectable – ending up in accelerating the process of tracking required information. The tool is also intended to help employees find details about colleagues and will provide extra information if it's someone they haven't met before. It will also provide information deemed relevant for the user and also at the exact moment it becomes relevant in order to ensure meetings and client documentation are easy to organise and keep track.
The UI uses an interface much like Google Now and is available on desktop or mobile.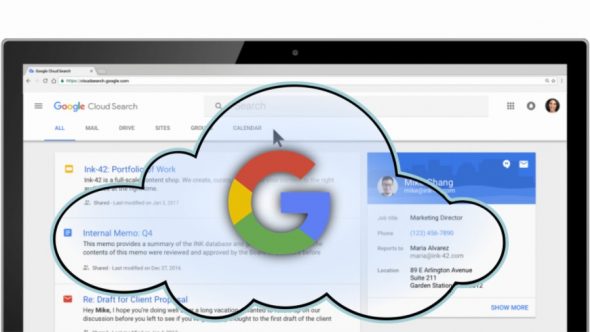 Read more: Google
Cloud Adoption Slower Because Of Security Skills Gap
According to Intel Security, scarcity of cybersecurity professionals is slowing organisations in adopting the cloud. Nearly 50% of 2,000 IT professionals that were surveyed admitted that the lack of InfoSec experts had slowed their cloud adoption efforts. Moreover, the report states that 36% of surveyors experienced a scarcity in terms of required skills but are continuing to use and adopt cloud solutions. Only 15% of respondents stated they didn't encounter problems with skill shortage.
Although cloud adoption was slower for 60% of engineering firms, the report proved that the largest organisations had the largest skill pool and were the least affected. Over 23% of large organisations reported no skills gap whatsoever. The report also found an increase in the levels of trust of public clouds, with 85% of those surveyed admitting to be storing all or some of their data there, and over 23% completely trusting public cloud. A substantial increase compared to 13% in 2015.
The research also found that senior executives are now aware of the pros and cons of public cloud, with 86% of IT staff stating their company's top management understood the topic and its implications.
The report concluded that the lack of insight into cloud providers' operations remains ITs top technical concern.
Read More: Cloud Pro